Keine Räumung des Alten Sportamts!
(August 2016)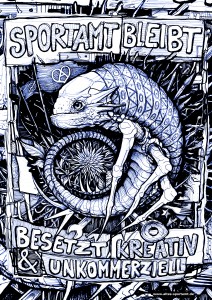 Das Alte Sportamt als unkommerzieller und selbstorganisierter Raum ist wichtig und muss weiterbestehen. In einer Gesellschaft, die von Konkurrenz und Profit bestimmtwird, ist es absolut notwendig solche Orte zu erhalten.
Wir brauchen Räume, in denen Menschen sich gleichberechtigt und selbstorganisiert zusammentun können. Wir brauchen Räume, zu denen der Zugang möglichst frei von Barrieren ist und nicht die finanziellen Mittel über die Teilhabe entscheiden. Wir brauchen Räume, die eigenverantwortlich genutzt werden, an denen keine Kontrolle stattfindet. Wir alle brauchen diese Räume!
Dass die Stadt Bremen nun Räumungsklage gegen die Nutzer_innen einreichen wird und den Konflikt um das Alte Sportamt somit eskalieren lässt, halten wir für nicht zu
rechtfertigen. Die jetzt schon über ein Jahr anhaltende Besetzung zeigt, dass es auch ohne Vertrag möglich ist, einen offenen Raum eigenverantwortlich zu organisieren.
Wir erklären uns solidarisch mit der Besetzung des Alten Sportamts und fordern den Erhalt als selbstverwalteten Raum. Wir fordern die Stadt Bremen dazu auf, das Alte Sportamt nicht zu räumen und stattdessen die Nutzung weiterhin zu tolerieren.
————————————————————————————————————————-
No eviction of the "Altes Sportamt"!
The "Altes Sportamt" as an uncommercial and self-organized space is important and must survive. In a society that is determined by competition and profit, it is absolutely necessary to defend places like this.
We need spaces in which people can come together on an at eye level and self-organize. We need spaces to which access is reasonably free from barriers and where no financial resources decide on the participation. We need spaces that can be used in our own responsibility – without being controlled. We all need these spaces!
It cannot be justified that the City of Bremen will file an appeal with the goal to vacate the building. This action serves to escalate the situation. The occupation lasting for over a year shows that it is possible to organize an open space without having a contract. We declare our solidarity with the occupation of the "Altes Sportamt" and demand the preservation of it as a self-managed space. We call for the City of Bremen not to evict the "Altes Sportamt" and instead continue to tolerate the use.
Deine E-Mail-Adresse wird nur zur Bestätigung der Unterschrift benötigt und dann nicht weiter verwendet!

Unterschrieben von 1258 Personen:
Merle
lisa lou
Annika Bahlmann
Anatoli
a-kino
lea Schleese
Anika Kosmis
And rea
Adolf-Philipp Krüger
andrea sick
thealit Frauen.Kultur.Labor
Alexander Steinweg
Annabel Albrecht
Rene Bruns
stämmⒶ
Aude Hort
Achim
Adrian
Anne
AnkE*
Anja Fußbach
Gunner Records
Agora
Rhythms of Resistance Bremen
Mike Kr.
Alex Gehrau
Alexander Hohmann
Alexander
SPQB
Alexandra
Alexa
Aline
aline
Umsonstladen Bremen
Anton Richter
Allmende Waldgarten
a & b
Micha (A.R.L)
Kello
Annika Mackensen
Fat & Angry
Stefan
Andrea Gotzel
Drea
Andrea L.
Andreas van Lessen
Andreas Rohde
Anias
Anika Rosarot
Ani Ka
Ann-Katrin
Anna
Anna
Anna
Änni
Anneli Bialek
Anne Meyners
Anne
Anne
Anne
Cathi Winkelmann
Anneke Bremen
Anne Moder
Anni
Lena N
Marco
àgauche Bremen
Antifaschistische Gruppe Bremen [AGB]
sToni
Antonia Z.
Annika Port
Ariane von Mach
Arne Helms
Christel Mettmann
Aaron Teckemeier
Uti Meyer Clawson
Artem Gojdenko
Art Halk
Arthur Hofhuis
Martin
Verein für Bunte Kombinationen
Grüner Zweig
Artur Ruder
WANDERLUST Konzerte
Ratte
Asimatrix
AStA Hochschule Bremen
AStA HfK Bremen
AStA Uni Bremen
Steffen / Freier Künstler Paff
ausma zvidrina
AZ Bazillus
Selbstverwaltetes Zentrum Ottersberg
Birgit
Birga Kiehlmann
uwe fechner
Bella
Philipp
fiona
Antivahr Bremen e.V.
Dritte Wahl
Barbara
Anne Kristin
BassDee
Basti B
Beate Benkens
Sascha B.
Kollektiv Beikraut
Benji
Linda / Lady Oelectric
Berna K.
Julia Fohne
Birdy
Lene
Björn Winter
Dima
stefan b.
Robin
Mareke
Blockupy Bremen
Privat Phillip Bock
Lena Meier
boogoo yagga dub disco
Kathrin
Boris Kaplan
Bork
Sabine van Lessen
Ralf Ballschmieter
bernd brejla
Interventionistische Linke Bremen
Anna !
toast brot
Kraft Bruno
Heidrun
Brigitte
Bassi Bueller
Jugendinitiative Sielwallhaus e.V.
Busta Bräuer
Butow Maler
Verein für mobile Machenschaften e.V.
Clemens Hachmann
Conny
Tonka Schimmel
Cornelia Pirsig
Carolin Zieringer
Longboard Idiots Düsseldorf
Ina
franzi
Camilla
Liz
Frida Lundby
Lunes
Carmen
caroline
Lena
Corina Lechner
Casper
Fabian
cathy schilling
Marko
Oliver M
Charlotte
Clara
Jürgen Rump
Christian
Ulf Ragnar Berlin
Anastasiia Chernichnaya
Chiara
Cholera Tarantula
Hartmuth
Christian Katz
Chris Wagner
Christian B.
Chris
Christian Schulz
Christian Homuth
Christian Keller
Dieter Seefried
Christoph
Christoph Spieker
ERROR
Conni
Cläre Caspar
Clara Lulu
Clara Alisch
Clara
Clara
Claudia Zimmer
Claudius
Moritz
Cody
Luisa
Daniel
Audio Stunts & Mahumba Reiprich
KOP Bremen
Lotta
Corinna Dengler
Cosima
christiane pohlmann
Jonas
Pony Tyler Goldsprint & Massenkaraoke
LilaLautstark - queerfeministische Gruppe Dortmund
Hannah
claudia
Christian W.
Johann Bergmann
doro tarian
sieve
Ela
P. Flasterstein
Daniel
D. Busch
Daniel
Darleen
Ender
Ernst Mann
David Unland
David
David Henke
Dennis
Deanna
Anders Wohnen e.G. (G17)
Dilfiroz
DC Nürenberg
Deniz
Dennis
Der Dennis
Alex
beans
Desiree Schmidt
Desi S.
Titus Krakow
Diana
diana falkenberg
Diana
Franziska
Mario Latussek
Miriam
Stephanie Dettmer
Dieter Schinski
Dietrich Quadt
Astrid Schulz
Lina
Disconfect
JaP
Basti Noir
Dianen A.
Devin
Dörthe M.
Dominika
dominika
markus schneider
doomspotzl
Marcel G.
Doris Achelwilm
edith müller-perez castro
Doro
Dr.Kaya
Me-O-Wa e.V. Ostritz unterstützt das Alte Sportamt Bremen!
drunk motorcycle boy
David
Jens Meier
elli peng
DANGER! DANGER!
Larusso
Ed Grau
Edda
Eddie
Edwin Kronschnabel
Eike
Lukas F
Eisen Bremen
Tanja
Tobias Freiheit
Kim Elaschi
Elena Manke
Elias
Eline
Elisabeth Nöfer
Elisabeth
Lavendre Productions
Jelle
Ben
Max
Jules
Muiskerinitiave Bremen e. V.
Emily Rosinski
Ena Dien
Endless tinnitus studio
enno
erfurt70
WEÖA Wuppertal
Hannes
StugA Politik
Enno
Eva B.
Eva
Eva Kirsche
DIGGNDIGGERS
Frauke O.
Martina Langer
MANO
Fabian Taute
Fabian
Benjamin Braun
fatfinger
Fatma
Freie ArbeiterInnen-Union (FAU) Bremen
Rieke
Thorro
feat°
Nils-Olaf Brumm
Felix
Felix Pithan (Landessprecher DIE LINKE Bremen)
Felix Frantic
Felix Vogt
Alltag Hummel
FeliZ
fem_ref uni oldenburg
Fengler Joerg
Hauke Katenkamp
Anne
Mony
Finja
Flösi
Fish
Souterrain
Antifaschistische Aktionsgruppe Flashmob
Olaf
Restmensch
Florian K
Florian Leibauer
Julian
Fonko
angie stripes
frank fort
Frank
franzi bauer
Franzi
Fran Zi
Steintor Schänke
Franzi
Frauke
Frauke
Franzi W
Amélie R.
Lee Berty
freischrauber*innen
Friesencrew Bremen
Fritz Storim
Bert Frommberger
Fynn S
Greta
Theoriegruppe 'Befreiung vom Geld und Eigentum ...'
gerrit
Hausprojekt G18
Chrisitan
Paul Katio
Berufsverband HEP in NDS/HB
Lukas Gehring
Sören
Torben K.
Gerit
Gerlinde Jäkel
Julsen
keine party!
Anupada Ma
Gaby
Göran Wiebke
Tomas
Ben Green
Studio Nord Bremen Hennig
Katharina
Hannes Scherf
Gruppe ARA
Guida
Guida
Gustavo Mendez
GW3
Thorben
Goodyeah Collective
bay-WATCH
Haifischbecken (Kneipe)
Hale
Salcido Hal
HALM
Hans Mohrmann
Hanna
Hanna
Hannah
Hannah
Hannah Schröter
Hannah
Last Leaf Hardcore
Hanny
I.Dreamed.I.Dream
Pablo E.
Der seltsame Herr Müller
Eva Luna
Elfriede
Helene Nozon
Maurice
Heiner Rosebrock
Heiner
Helena H
hello s
Helmer
Hennes
Henning Schnaars
Henning
Henne Schindler
Henni
Toni
franzis
Norman Wnuck
Hans-Georg Isenberg
High Heels Slut zine
Bernd Wand
Henri
Hönkeldruck
Petra
HOLLY SHIAT
Holger
Stadtkontext - Samt im Getriebe der Stadt
Marcel Schulz
Ute
drachen lord666
Ina Christof
Isabel
Ingrid Marek
Alexander I.
Georg Möller
Ines
Anastasia
Sandra
Igor Sirota
Astrid
Christoph W.
Umsonstladen
Ines Lemmer
Archiv der sozialen Bewegungen, Bremen
u.a. Archiv der sozialen Bewegungen Bernd Hüttner
Caillera Ultras
city/data/explosion
Degenerate Idol
Disorder Rebel Store
Sebastian Kobs
Flüchtlingsinitiative Bremen
gerd seemann
Infamous Youth
L'Intesa Verde
JUMP UP Schallplattenversand Henk
Fabian Rust
Kulturzentrum KUKOON
Kulturküche e.V.
Marthe Trottnow
Peng! Bremen
Reinhart Hammerschmidt (Musikerinitiative Bremen)
Eva/ Radieschen
Ruin Nation Records / Bremen
sabotagerecords bremen
Sarkast
Sascha Brüning
Kulturzentrum Schlachthof e.V.
golden shop
Traumfänger Kollektiv
UJZ Kornstraße Hannover
Ulf
Unterhalb
Infoladen Bremen
Inga
Inga
Autonome Landjugend Weserstadion
Jens Werner
Simon Denecke
Irina
Gunnar Melchers
Isa
isunswurscht
Ivo
Böker Jens D. L.
Johannes Fiffikus
Johannes Hecht
Jesper Jordan
T.!
Jörg Lochmon
Julius Jupp
jakob weichberger
Jack Kriesche
jakob poliwoda
Jakob Stephan
Peter Szesny
Jan CD
Jan
jan
Jana I.
Jan
Jana Meyerdierks
Jane
Janek
Felix Domke
Janina
Janina
Janis
Janna
Jannes
Regulus
PENG!
Jan Strauß
Jasmine Helbing
Jasper
Hans Wurzt Soky
Jenni
Jenni
Jenny Prugger
Jessica Pennekamp
Robert Schröder
Jenny Müller
Jens
Janika W
Affenzahn Fahrradkram
Jörn Pf.
Flo
Johann
Ben
Johannes Schenk
Die Bullen
John
nö
Jonas Böhls
Johann
Johanna
Hinrich
Jona
jona
Jonathan Schlue
Jonny
Lukas
Josepha
Julia S.
Julie Käßner
Helmut Frömke
Judith
Judith Strodtkoetter
Jürgen Wersebe
Julia
Julian
Juliane Mischler
Julia
Justus
Jugendzentrumsinitiative Innenstadt e.V.
Janina
Katja
Kat
Kathrin de Silva
Katarina
kathrin d.
Kai-Michael Henze
Kai
Kaori Wagner
Karin
Karl Oswald Mayer
Karsten Lasch
katha
Kathi Kathi
Katharina Rikus
Katja
Käthe
Abgefahren - Bremen by bike
Katja
Katharina F.
katrin
Katrin
Katzensprung Info und Freiraum Bremen-Nord
Kej
kerstin schröter
Kerstin Elfriede
Kerstin
Kevin
Kai J.
Jan Kolja Skrz
Kiki
Kilian Chaunière
Außerhalb Kollektiv
Killbite
Marthe
Lars Ottokar Köke
Kulturzentrum Lagerhaus e.V. Büttner
claire grube
Wagenplatz Querlenker
Klara Meier
Sebastian Holk
knoblauchkakadu
Lies
sabine kohn
Stef
Percy & Komplizen* e.V.
Lena Ko
Floyd
Basisgruppe Antifaschismus (BA) Bremen
Hack Mack
AK kritische Geographie Bremen
Laura B.
Lisa Ringen
Mensch Meier Berlin
MS Treue
zuckerwerk e.v.
Conny
kollektives Zentrum
Sabine Krause
Kristina
Kristina
Kristina
Kristin
Radek Krolczyk
Ben
Krüger Elektronik
Rebecca Krüger
Jörn
Kultur im Bunker e.V.
Ronnie Beck
Kyra Käbel
Lennart K.
hauke
David
Thomas Rauschenberg
Lara Wiegmann
Lara G.
Lars Die PARTEI Niekrenz
wonne
Lasse Dwenger
Laura
Laura
Laura B.
Laura
Anouka Kühmstedt
Laura
Laura
Vesna Linde
Lavinia Schülpke
Laura
Lea
Lea Voigt
Lea Fröhlich
Lea Ann
Lea
Lea Wittenhorst
Ralf
Lena
Lena
Lena Kießling
Lena Kay
Lene Arrasz-Zehl
Löni Zitröni
Lennart J
Lenny Looser
Leon
Leonard RoRoRo
Leon Bohlsen
Le K
Jennifer
Leyla Bolz*
Lars Fürst
Linda
Klas Rühling
Centro Sociale Hamburg
Janina Kappe
Lisa B.
Dominik
pia leuchtmann
lili
Linda
Florian
Lena
LiSA
Lisa
Lisa
Lisa
Lisa R
Lisa Popisa
Jugendhaus Buchte
Lissa
Liza
Lisa W
LIZ Bonn
Lena-Johanna Radtke
Hanna
Lea B
Losch
Isa Krückels
Leo
Lara
Lucas L
Lucie
Nina W
Lui Ko
Luise Assmann
Luis T.
Lukas
lukas
Nils Knatterton
LuluHuhn
Freiraum Cafe / Walle Aragni
Bund Deutscher Pfadfinder_innen Jugendhaus Hulsberg
Lisa
Marion
Max
Zecken Unioner
Hirnsäule
josi
maarc maarc
Christian
Malte Strüter Heil- und Chiropraktiker
Markus Höltke
Mahan Sam
maike krech
Maike Nawrath
Maike Buchmann
Maik Riekenberg
petra petrulla
Die Chinesische Wäscherei
Latenz
Ab geht die Lucie
Roshan Margraf
Maja
Otra Maja
Maleen
Malte
malte h.
Malte Lier
Christian S.
britta
manuel duckstein
Marc Olszak
shark
Marc
Marc(Zivi)
marcel georgi
Robin Hood
Marcel Thomsen
Marcella
typ
Marcus Strittmatter
Phil
Mari
Marie
Marie
Marie Oldenburg
Mari Lena
Marina
Marion Bösen
Mark 💚🍀 Wegner ✊
Markus Ostermair
Markus
Martin Tosa
Martin
Martin
Martin / (Kritische Lehrer_innen Bremen) Mauritz
Martin G.
Martin Javier Polo Hoboth
Martin Kruse
Martin
Martin
Marcel Nyari
WCTW
Matthias Weinert
Mattis Krause
Matthias Büttner
Matze
Maurice
Michael
Messstelle für Arbeits- und Umweltschutz e.V.
Marthe
Maximilian Brandenburg
MaxMax
Yasser Almaamoun
Max
Empty Bones
Daniel
MediNetz Bremen
Christian Meier-Kahrweg
llyphon
Melanie Fliszar
Melina
Melle
Mell
Mel ist tierlieb
Martin Mennenga
Merete
Michael Nienaber
Michael Horn
Michael
Michel Guttau
Mik
Mike
Mikroklubbing
Milena
Jürgen Seisenberger
Mine
Jasmin Bentama
Mirco
Miriam Strunge ( MdBB DIE LINKE)
Mirja
StugA BiPEb
Manuel J
toddy
Mareike
Glittergewitter
Moritz J
Mascha
momo der kleene Panka
Mona
Mona
mona e
Mona Mariposa
Katharina
Monika
Jan
Mareike Hornof
Die Friese Bremen
Moritz Clasen
moritz mann
Matthieu
Justin Case
Jakob (Cleaver Finn)
AudioGedöns Dreadzibel
Sandra H.
Andrea Vogel
Pamela
Martin
Martin
ariane müller
Margot Müller
Felix
Mugel
Neele
Natalie Pinsel
Nadine
Nadine
sarah
Alex Haagen
Natalia
Emiliano Zapata
Svenja
noch eine autonome gruppe (neag/hb)
Patrick
Neele
Villa Rotenburg e. V.
jana
Manni Nicolai
Peter
Nicole
Nicolas
Niels Werning
Nina
Hahn
niklas
Niko
MALFORM
Niko Batz
Nils
Nils Schröder
Nils
Nils Moje
Frie
Nina Blocksberg
Nine I.
nina b.
nins b.
Nina
Nils
AndiMcGeil
Marco Nolte
Nora D
Norbert
Norbert Korzeniowski
Naddel
klein von wisenberg
liftcafe
Angela
Ulises
Lennart
olli k.
olaf zimmer
Martin Fricke
Rakede
Ole Asmussen
Ole Hilbrich
Oliwia Bogdanowicz
Oliver Penopp
DIE LINKE Landesverband Bremen
Olaf Pohl
hanno und otis
Oddo de Fries
Masel
Paul
Pauline Bloeth
Peter Zimmermann
Patrick Graner
Phil Mascho
Sebi
Pawel Rzoska
Martin
Alexa
Pascal Knüppel
matze
Paul
Paul Baumgarten
Skaska Hausmann
Paula
Paul Montané
Knobs'n'knockers
Patrick Carapace
philip
Wolfgang
Petra
Christopher
Philipp Piechura
Phil
Phyllis
Ronja
Tofu Fauzehu
Pille Holz
Thomas Prechter
Paul J.
Pan
ämpelgate
Chris
Punkcafe
marlene
Nordpol
pommes ketchup
suntzudao
Tina
postford (band)
Potse Berlin
Lars
Schwankhalle
Jule
Sebastian Wedemeier
ThekenGräten
Alex Brave
Marie
Robin
Rashi
Hauke Pauke
Affenzahn Fahrradkram
Ansgar Schürmann
Ralf K.
Marchè Petersen
raphaela
Jannis
Steffen Rauert
Raúl
Raimund Gaebelein
Reaktor Collective
Rebecca
Martin
Uwe Bommel Hahn
Ranz
Rebekka
Anne
Julia
Renzo Spitti
Waltraud Reschke
franz richter
Jens Von borstel
Deuti
Tanjosi
Pia Keppler
Mario Ritterhoff
Marie
Ronja
bastian Krüssow
Robert
Robin
Ulli Ro
Roman Daul
Ronja Buhmann
ronja
Ronja
Rosa Hummel
Frieda
T.V. Sailer
Kristina Roth
Sven
Rüdiger Bahr
Ruth
Philipp
Malte
Samira
Steffi
Sarah
dj goldfinger
Steffi Schmid
Sophia
Sabine
Silke Susan Rotermund
Bonzo
Sandra
Susanne Spiller
Sabrina Stubbmann
promille paula
Sabrina
sabrinabeate
Sabrina
Sally Johnson
Sve
Sami
knobs'nknockers vintage furinture
Tomek Samek
sandix
Sandra Tholin
Sandra
sandra
Sanne Neumuth
Jonas
Sarah
Sarah Zwicker
Sarah R.
Sarah Frede
Sarah Nö
Chris
sarah
Datastix
sascha
Saskia
Saskia
Julia Schwarz
Schmerzgedaechtnis
Kevin
Svenja
schrank
sascha jägwr
Come Together e.V.
lena
Schwankhalle Neugier e.V.
Micha
M. Kirsch
Doc Grotabol
Susanna D.H. Mohr
Seerobbengäng
Sebastian Herde
Sebastian Denzin
Sebastian G.
Monch
Sebastian
Sebastian
Sebastian
Sebastian Chica
Krüger Krüger
Eric
Eike B.
Daniel
Selma
Jan is auch dafür!
Spunk
Linda
Jasper
Herbert
Sabine Hummerich
H.!
Crazy Run e.V.
Silke Wiethop
Silvio Koch
Simon H
Simon
Simon
Mutiara
Sabine
Alexander Brandt
sofie
Sofia
Sofia Leonidakis
Anja Baryga
linksjugend ['solid] Bremen
Sonja Schütte
Mario L.
Josi Overton
Sophia Littek
Süleyman Orke
Sophia S.
Nervous Assistant
Sozialistische Alternative - SAV Bremen
Space
kunst- und kulturverein spedition e.V
sylvia
Johannes
wysiwtf TiTAN
Florian
Sporti
Jonnz
Spröde Lippen
Sascha
Aksel W
Heini
Tobi
Jörg
Psychiatrie kritische Gruppe bremen
Stefan Martens
Stefan P
Steff
Steffo
Stefanie Weiß
Stefan Levante
Manfred Steglich
Sandra
stephan
Chevalier
Stephan St.
Stefanie Möller
Christian Göbel
Claudia Medeiros
Ade
Stefan Daniel Willenborg
queerfeministin
Ullah Schnullah
Susan
Susanne Drees
susanne
Susi
Susanne
Zwän
Sisi
Louisa
Tabea Pischel
Tanya
Talea Schuré
Timo
Tobias Oesterwind
Kerstin
T.E.
Teo Marchal
Ann-Christin
Kathrin
Terrorrythmus
Thomas Albrecht
Ancient Emblem
Anke Hartwig
Jörg Fischer
Theo Collective
kramer
Theresa
Thied Lüttche
Thilo
Thomas Böker Kunst, Kultur und Kommunikation
Radio Wellenwahn
Thomas W.
Tomek
Dub Rockers
Juls
Franziska
Rooobeeeert
Till Lucas
Tim Ruland
UltrA-Team Bremen
Timo B.
Timo
Timo
Timo K.
Ti Na
Miriam
Tim Sommerfeld
Thorsten
Paul Meyer
Robi
Tobias T.
Tobi Wenner
George Costanza
Tobias Menkens
Tobi Bremen
Tobias Schüler
Thomas (TOM) Meyer
Christof
zebra zoom und monkey panic
Tobias Koch
Thorsten christoffer Arsch
Daniel Tolsdorf
Tom
Størte
Torben P.
Torte
toshi de la roche
Sophia Lansing
Jackie
Franci Trybull
Türkei Info Bremen Bremen Halkevi
Philip W.
Kass Em
Ulrike
Uta
Ute Greiser
Uli
Ulf Treger
Urszula
Aron L Flow
UnbezahlBAR
Luca B
zakk ( zentrum für aktion, kultur und kommunikation)
Uwe
Uxía Iglesias Tojeiro
Janis
Virginia
Valentin
veb_entglasen
Thomas van der Veen
veit
verena gilhaus
Vivi
Vincent
Vivien
Vivian Schneider
Jonte von Döllen
Francesca
Anna V
Rebekka
Wibke Duwe
Waltraud Mettert
Max Breitenbauer
plexe
tRiots
Aliaksandr
Lars Wolf
A(W) Baader
Wagenplatz Wem gehört die Welt?
Werner Kuhrmann
jürgen
Simone Meyermann
Ariane
Wiebke
Beate Wild
Wilko
Dan
brennholzverleih
Robert
tapestrx
Wolfgang Witte
petra
Sophia Z.
Alexander Schnadwinkel
Wilfried Schartenberg
Steph Stephie
Moreno Daniel
Karl E.
Katrin
Sören
Ylva
Yasmina
Yvonne Oldenburger
T.pu
Yesim
Christopher Ostermann
kredo
Caren Reuss
patrick
ALLIANCE BMX
Edgar Zitelmann
Katia